Group Fitness Pass
Group Fitness pass holders have unlimited access to all classes on the following schedules.
September 3rd – December 13th, 2019     

 

          No classes 11/2-5, 11/27-12/1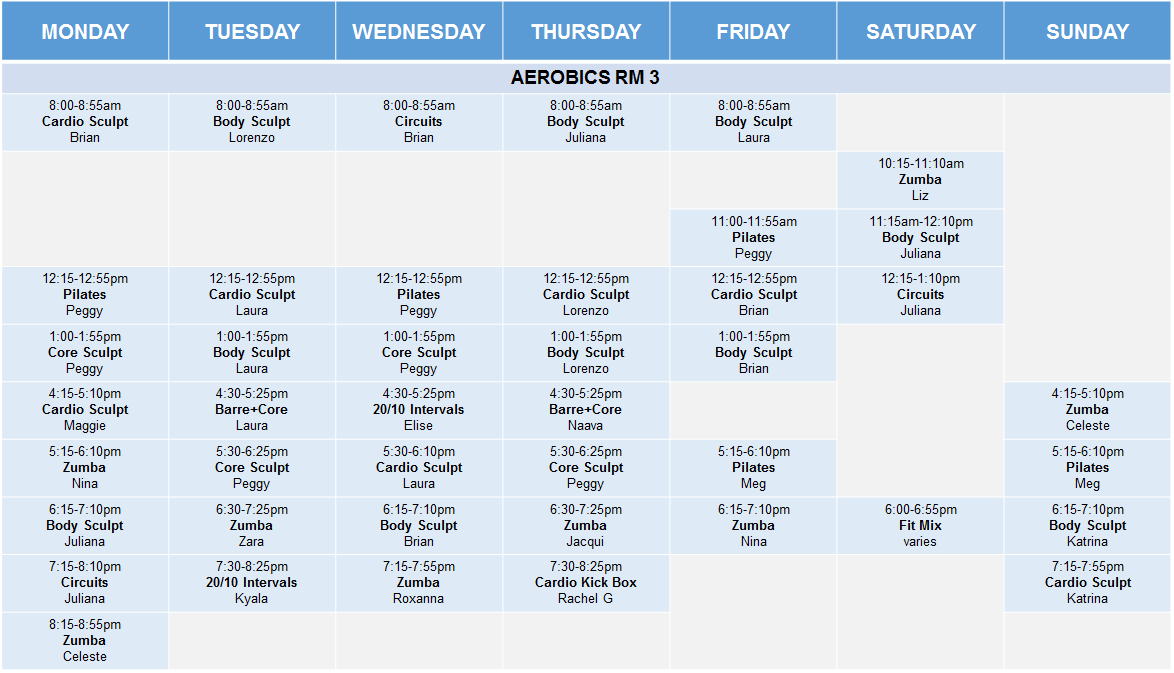 Barreless Barre

A ballet-inspired workout to tone the entire body, and improve posture and balance.

Barre+Core

A combination of Barreless Barre with focus on core strength training.

Body Sculpt

Non-cardio workout to strengthen and firm the whole body using weights, dynabands and body bars.

Cardio Sculpt

A combination class including floor aerobics, step, and/or kickboxing with body sculpting intervals.

Core Sculpt

Combination class including light body sculpting exercises with Pilates-style mat work to strengthen and lengthen the entire body.

Fit Mix

A fitness class combining cardio, sculpting, core and stretching to facilitate all levels of training.

Pilates

Classic Pilates mat exercises designed to strengthen and lengthen the "core" (abdominals, back and hips). Emphasis on proper breathing and alignment.

PiYo

A high-energy workout that combines Pilates, yoga, and cardio!

Turbo Kick

A fast-paced, choreographed kickboxing class that tones the whole body and provides a fun cardio workout.

Zumba

A dance fitness class set to latin and international music.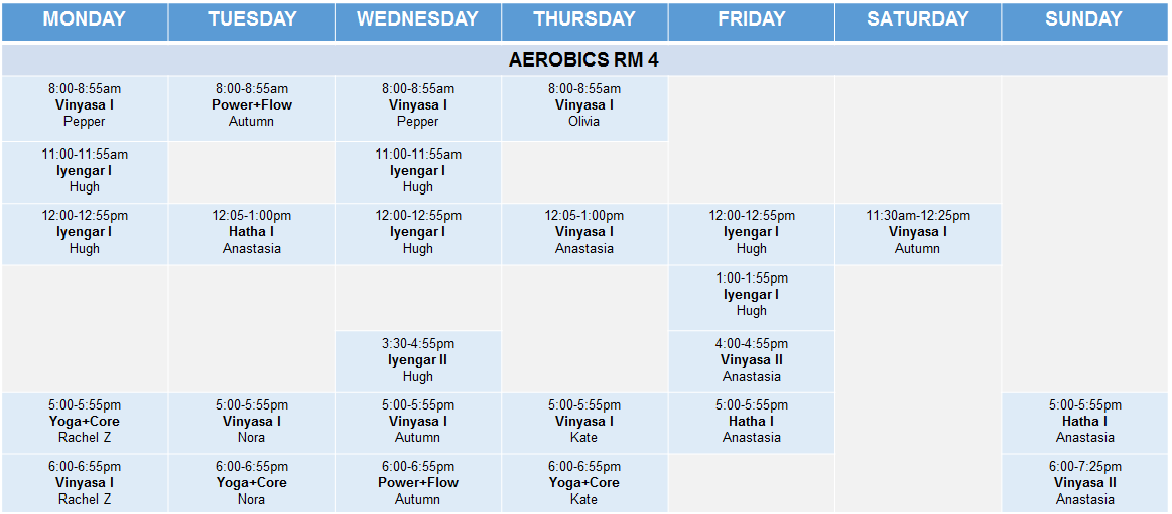 Hatha Yoga

Yoga fundamentals taught at a slower pace focusing on increasing flexibility through postures, breathing and relaxation/ meditation techniques.  A good introduction or reinforcement of yoga practice.

Iyengar Yoga

Hatha yoga taught with the Iyengar teaching method.  Focus on alignment and precision in the yoga positions with the use of props.  Intermediate level requires at least one year of Iyengar Yoga experience.

Vinyasa Yoga

Vinyasa yoga is a vigorous style based on a series of poses performed in rapid flow connecting movement and breath.  Yoga experience is expected.  Intermediate level requires an established yoga practice.

Yoga Level I

Requires no experience and focuses on learning and mastering fundamental postures.

Yoga Level II

Some experience recommended. Incorporates more challenging postures.
Regular Price

$185

Half Price - Starting Oct 21

$92.50
You may register online at any time, or in person Monday-Friday from 8am-6pm in the Physical Education Office (room 336 of the Dodge Fitness Center)
Please review our policy page prior to purchasing.