Ski and Snowboard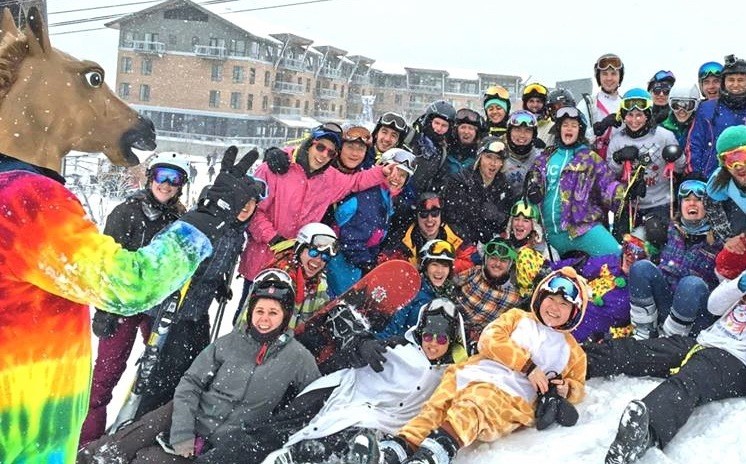 The Columbia Ski Team is Columbia University's only (and best) skiing and snowboarding club. Also known as Columbia University Alpine Racing Team, CU Ski and Ride, Columbia Ski and Snowboard Club, Harlem Alpine Racing, or any combination of the above. The team has two integrated parts: racing and free skiing, allowing members to do as much of each as they wish. The club travels up and down the east coast from New Jersey to Maine for both day and overnight ski trips. All levels are welcome (and encouraged) to join the team for a fun social environment, the opportunity to make year-round friends, and lots of skiing! Individuals who are affiliated with Columbia University and have a Dodge Fitness Center membership are able to be a member of the club.
For racers, the team provides a competitive environment for skiers and snowboarders who want to hone their skills on the racing slope and terrain park while fostering a place for all levels of skiers and boarders to have a great time doing what they love. Competitions, including Slalom, Giant Slalom, and Slopestyle, are run under the auspices of the US Collegiate Snowsport Association within the Mid-Atlantic Conference. 
To learn more about the Ski & Snowboard Club, please visit their website, follow them on Instagram @columbiaskiteam or contact the officers listed below. 
President

Parker Mergelkamp

Vice-President

Emma Snoddy

Treasurer

David Sherman

Secretary

Lily Wolman